The liver is the major detoxifying organ in the body and the primary site of Phase I and Phase II detoxification enzymes. It's located in the upper right area of the abdomen.
Your liver performs multiple functions important to keeping you alive and well. It helps convert nutrients from your diet into substances your body can use. The liver plays an important role in turning toxic substances in your body into harmless substances or expelling them.
These toxic substances go through the Phase I and Phase II detoxification process.
These detoxification pathways are aided by the presence of specific herbs and nutrients.
The ultimate supplement I recommend for Detox is USANA's HepaPlus.
HepaPlus is a carefully formulated blend of ingredients aimed at supporting and maintaining your liver.
The main ingredient is milk thistle extract—one of the most powerful currently known antioxidants. Milk thistle helps increase the amount and activity of several antioxidant enzymes involved in detoxification.
Other important antioxidants in HepaPlus include alpha-lipoic acid, green tea extract, broccoli extract, turmeric extract, and Olivol® patented olive-fruit extract. Each helps protect multiple enzyme systems in the liver, and provides secondary antioxidant protection to the rest of the body.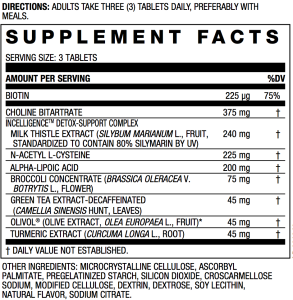 Your detoxification pathways are aided by the antioxidant activity of vitamin C and glutathione—a powerful antioxidant enzyme made in your body.
USANA's in-house scientists have conducted a double-blind controlled study to test the effectiveness of Hepasil DTX.
The study's results showed that both circulating glutathione and vitamin C levels increased following treatments with Hepasil DTX.
This is the first time a combination of essential nutrients and phytochemicals have been shown to increase both plasma vitamin C and glutathione levels simultaneously.
The results also showed that the recommended dosage of Hepasil DTX is able to boost both glutathione and vitamin C levels—essential molecules for antioxidant defense and to support the natural detoxification pathways and process.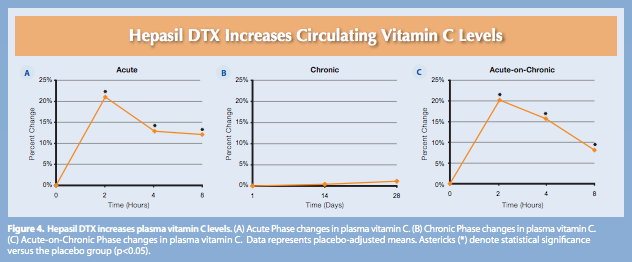 Summary
- The liver is the major detoxifying organ in the body.

- Glutathione—a powerful antioxidant made in the body—and vitamin C are involved in the detoxification pathways.

- Milk thistle extract

supports liver-cell health and scavenges free radicals.*

- N-acetyl l-cysteine

is a precursor to glutathione.

- Alpha-lipoic acid

influences the production of glutathione and it supports Phase II detoxification reactions.

- Patented Olivol® olive-fruit extract, broccoli extract, green tea extract, and turmeric provide excellent antioxidant support. This is crucial for liver health because the detoxification process generates a lot of damaging free radicals.

- Adding USANA's HepaPlus to a healthy lifestyle can help maintain healthy liver function and balance the body's natural detoxification processes.
If you want to restore your liver health and improve your digestion I recommend buying the HepaPlus supplement right away. 
Right now (2nd August 2017) I'm running a Detox 28-Day program and I invite you to participate. The program is free to join. Your only investment is in the products I highly recommend.
The 28-Day Detox Program is just what you need to begin making the first steps to remove unwanted toxins and reduce the burden on your liver.
If you're reading this after the program is finished I still invite you to join my Facebook community. I'm regularly running 28-Day programs. 
Register your interest here and I'll add you to my private Facebook Community
To your Detox success
Tarryn Thompson